Britt Festival Pavilion Seating Chart
The Britt Festival Pavilion is an outdoor venue. It can accommodate up to 2,200 guests. The Pavilion features a variety of areas where people can sit.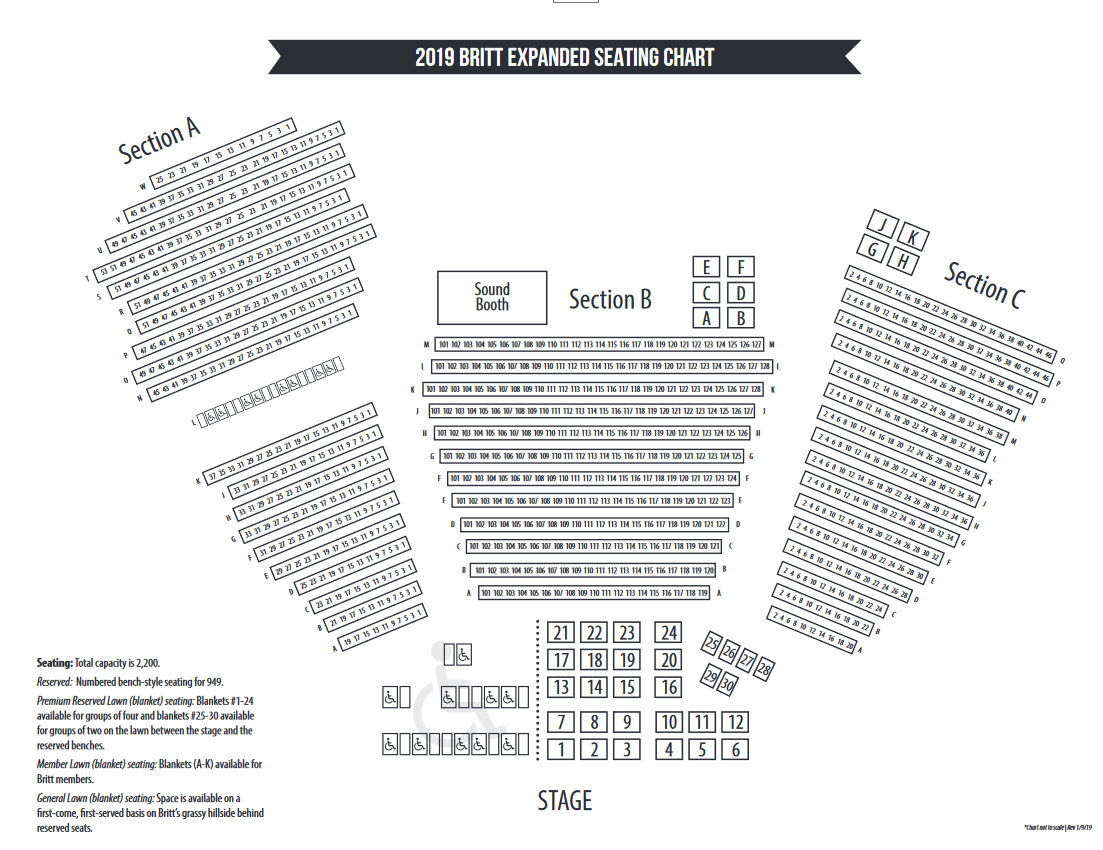 When choosing seats, attendees should consider the type of music they will be listening to. For classical music, Reserved Seating might be preferable. For jazz or folk music, Lawn Seating might be more suitable. The weather is also a factor to think about. If it's particularly hot, Reserved Seating might be cooler. Lawn Seating could be better if it's a lovely spring or fall day. Ultimately, the decision should be based on personal preference. Some people desire to be up close to the stage, while others prefer a more relaxed experience. Guests are advised to select the seats they believe they will enjoy the most. The Pavilion is designed to ensure that everyone has a fantastic time, regardless of where they sit.
Lawn Seating
The most affordable option at the Pavilion is lawn seating. The grassy area in front of the stage provides a relaxed and laid-back experience. Guests can spread out a blanket, consume food, and casually enjoy the music. The space is offered on a first-come, first-served basis. Guests can bring low-profile lawn chairs, provided they do not exceed six inches from the ground to the seat and are not higher than 32 inches from the ground to the top of the chair. Chairs are available for rent at the venue. Regular lawn chairs may be used at the rear and sides of the general seating lawn area. However, space is limited.
Reserved Seating
The Pavilion provides numbered, bench-style seating available for 949 guests.
Premium Lawn
Blankets and Standing Room Only (SRO) Depending on the concert, the lawn area between the regular reserved seating and the stage is designated as premium blanket seating or SRO.
Premium Reserved
Blanket spaces are available, with each space clearly marked. Guests are encouraged to bring their own blankets. If all 30 blanket spaces are sold, there won't be any general admission seating in front of the stage. Individual tickets are sold for SRO shows, and guests are provided with wristbands.
Chairs, blankets, and ice chests are not allowed in the premium lawn area for these events. For Britt Festival Orchestra Season concerts, the premium lawn area is sold as general admission lawn and is offered on a first-come, first-served basis.
ADA/Wheelchair Seating
Limited ADA seating is offered for guests with disabilities. This seating is subject to availability and should be requested when purchasing tickets. ADA seating is priced the same as both Premium Reserved and General Lawn seats. Each ADA seating area allows for one additional seat to be purchased for a companion.
Seating Capacity
The Britt Festival Pavilion offers seating space for up to 2,200 patrons. This seating includes 949 reserved seating bleacher-style seats, reserved lawn (blanket) seating, general admission lawn (blanket) seating, and a few wheelchair areas as detailed in the seating chart below.
General Admission
General seating areas on the lawn are general admission with first-come-first-served spacing. So if you want general admission tickets, be sure to arrive early to the venue so you can have your choice of space on the lawn.
NOTE: The seating configuration may change for different types of events. Always check the individual event seating chart when selecting your tickets.
Reserve your seats today by securing your tickets. Visit the Britt Festival Pavilion schedule to see all upcoming events.
To view the ticket and refund policies please visit the ticket information page.