Britt Festival Pavilion Information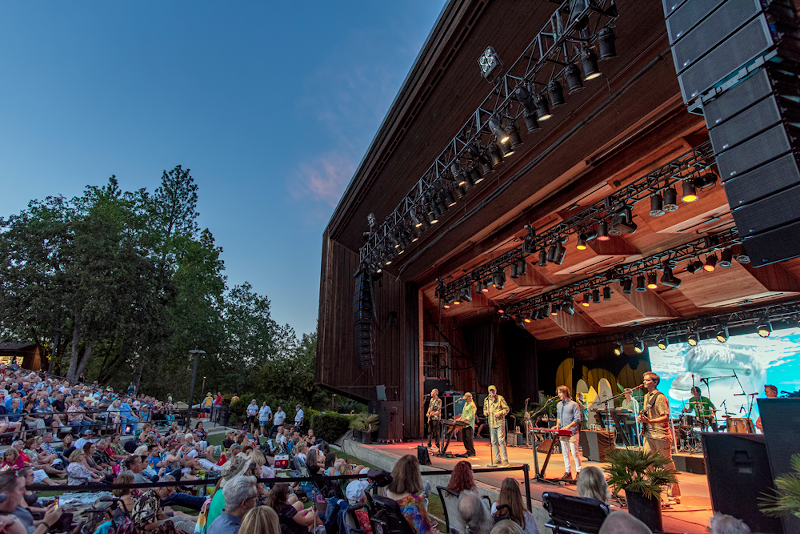 The idea for the Britt Festival Pavilion began in 1963 when Portland conductor John Trudeau and several of his friends were searching southern Oregon for a place to start a summer music festival. When their searches took them to the hillside estate of Peter Britt, they realized they had found the perfect spot for a music festival venue. The hill featured natural acoustics, scenic views of the valley in the distance, and the comfortable Oregon weather that Trudeau and his friends loved and felt would make a perfect summer festival spot. The beauty of the valley motivated them to set up shop on the very spot, which led to a plywood stage being built.
After the stage was built, the only resident performer was a local orchestra that provided all the music, until the current pavilion was built in 1978. The festival continued to grow from then, with more seats being added, national attention being gained, and high-profile artists choosing to perform at the venue. Over time, the venue became known as a popular spot for outdoor music, even outside of the Britt summer festival. The venue also sponsored educational programs through its educational arm, The Britt Institute, including The Kassia Ensemble, that has taken up residence as of September to launch a new elementary school program inspired by "100 Goodnight Stories for Rebel Girls". Famous musicians, such as Dmitri Matheny, have even opted to come back to southern Oregon to deliver educational programs from the Britt Festival Pavilion stage and venue.
All told, what started as the hunt for a summer festival venue, has since become an annual commitment to music, performance arts appreciation, and artistic education.
Today, The Britt Festival Pavilion is more than just an excellent and beautiful outdoor venue. It is also home to a non-profit performing arts festival that brings the best of entertainment to Jacksonville, Oregon residents, and music-lovers from across the globe. Famous stars are eager to bring their tours to the city, making the venue a memorable place to see charts-topping hit sensations. It serves the community with the various education and arts programs it sponsors and hosts. It also helps add to Jacksonville's famous sense of community.
Coming out to the Britt Festival Pavilion is all about having a great time that guests will never forget.
See the links below for further information on the Britt Festival Pavilion:
Britt Festival Pavilion Parking:
Latest parking information and rules at the Britt Festival Pavilion.
Ticket Policies:
Latest ticket guarantee and authenticity policies.
Britt Festival Pavilion Seating Chart:
Britt Festival Pavilion seating chart and related seating information.